Each week, we shine a light on dedicated riders, like you, who utilize REVER on their motorcycle adventures! After we grill them on their bikes, rides and insight, we then share it with the REVER community.
If you would like to be featured as our 'REVER Rider of the Month,' send an email to support@rever.co. And don't forget to tag #REVERmoto with photos of your moto-ventures on Instagram, Twitter and Facebook while you #MakeEveryRideCount!
Meet this week's REVER Rider!
Her name is Kelly Quinn, but everyone knows her as "Throttle Girl." She's a charitable figure in the motorcycle industry, and because of her love for long-distance riding and connecting with the community, she's taken a liking to the REVER app. We've been lucky enough to get to know a little bit about Throttle Girl, and we're happy to share what we've learned. If you'd like to know more, check her out on Facebook, Twitter or Instagram.
What's your preference: on-road, off-road or race-course?
On-road, but I love off road too! I have to choose? Seriously though, as Throttle Girl I am a long distance endurance rider, competitor and fan of the growing sport, as well as an endorsed industry spokesmodel and Good-Will Ambassador. My roots however go back to dirt, growing up in Alaska.
Tell us about your motorcycle(s) – make, model, year? How did you two find each other?
I have a Custom 1999 Road King that actually sits in need of love after laying her down during a long distance event I was participating in. While trying to avoid hitting a deer that jumped out in front of me, I came up short on the following turn in the road by doing so. Lesson learned, next time I pack home dinner. Ha! Ended my run, but I got real lucky and bounced right back up. She is a tribute to my love of vintage Cadillacs. My work horse Rally machine is a 2013 HD Road Glide Custom. Love her. She is my trusted steed. Honestly, I can't image ever riding anything other than a Road Glide again, but who knows what the future will bring? My baby has my heart, and I trust her immensely.
What inspired you to start riding motorcycles?
At the risk of sounding cliche, the liberation and freedom I feel from doing so. The world looks completely different from the seat of my bike. All of my stresses, fears, inhibitions and problems fly off the back of her when we're moving. People ask me all the time how in the world can I ride the amount of miles I do in the amount of time I do (I just did an IBA Coast to Coast in 41 hours). My answer is simple: for me, that is my meditation time. Just me, the road, and my god cruising and being in the moment. I get that it's not everyones cup of tea, but it's my slice of Heaven for sure.
Does it have a nickname?
If she had a birth certificate, her name would be the 'Copper Queen II.' However, as her proud Mama, I lovingly refer to her as my 'Baby.'
Where is your favorite place to ride your motorcycle?
I love riding in my front and back yard – the Sierra's in California. I make home base Reno and Tahoe which is simply some of the best riding in the world. Montana is breathtaking. Hard to deny the Black Hills when I'm riding there, and even Key West, as straight as the road is, you don't see water that color in the US anywhere else! I was just thinking about this when rolling thru Florida a few weeks back. I can honestly say something special about every State and place I've been, and they all hold different special values to me.
There is so much diversity to experience ranging from the people met, places experienced and topography traveled that it makes it hard to pick just one place. Even riding through the corn fields in Indiana at sunset has a magical air. I guess you can say I've never met a road I didn't like… I do try to avoid inner-city travel as much as possible, but again, even they have a story to tell. Butler Motorcycle Maps, for me, have really enhanced the riding experience in places not well known. Love seeing new zones where, before, I thought I just maybe needed to pass on through.
Do you have any good anecdotes about motorcycling?
It's interesting to me, as Throttle Girl, I have many 'quotable' phrases I am always saying, "Throttle Up!" for instance. Yes, I mean to grab the throttle, but the bottom line is that we all have an eternal throttle we need to grab onto and often times even help others inspire to do the same. That is truly my call to action. As my tagline is "Fueled on Passion, Driven by Purpose," all the events and 'Rally Factor' I try to inspire out there in America is geared at firing up the second largest charitable group in the world: the Motorcycle Riding community.
When you think about it, what do we do every weekend all across the country? We ride for a difference right? Be it for our own souls or to rally around another member or group in the world needing some support. I often compare the Biker community to Pit Bulls. Yes, we look aggressive with our tattoos and intimidating outwardly appearance, but really, we are big softies that will probably just lick you to death when you get to know us! The Biker community, for the most part, are a people built on heart and proud to follow a code.
The only other places I've experienced this unity is within the ranks of military forces, police & fire service, amongst the Lakota people I work with on Pine Ridge in South Dakota and while growing up commercial fishing in Alaska… but that's another story. It's been proven to me that anytime you put your life on the line and depend on each other, a deep bond is inspired. As Throttle Girl, this is what I hope to share with America and the world. Throttle Girl events, rides and tours are geared at riding for a difference. All the other rides which I personally ride and compete in are for me. They are my meditation, helping to fill my cup up so I can keep grabbing my throttle in life – hopefully inspiring others to do the same because it's TOGETHER that 'We Rally All!'
Could you tell us about a memorable moment that you've had on your motorcycle adventures?
Too many to list, you'll just have to follow my Facebook and Blog and come along for the ride! Again, it's really too difficult to just name one. I love riding as the dawn light comes up after riding all night in an endurance challenge. I love riding that time of the day when the sun is blanketing the road pink at dusk. I love that my motorcycle, and my adventures take me places I would never have dreamed, both on the road and off in my personal life. The experiences, relationships, friendships and opportunities riding guides me to…it's is a gift I don't take for granted.
What's your favorite function of the REVER app?
I love playing on REVER! Being a new app, I'm really looking forward to where they'll take it from here – though outta the gate they've done a great job! I'd be lying if I didn't say I like the competitiveness of the Challenges. They are fun, and it's fun to watch the miles add up. I have used the app several times to refer back to my past rides and get an idea of time and mileage. For instance, for the 75th Anniversary of Sturgis, Throttle Girl will be hosting Throttle Girl's Lakota Heritage Ride & Celebration on August 7th at the Legendary Buffalo Chip. I just used the app to map and plan our ride, kicking me back all the details I need to plan and organize around it. I also just used it to document my last IBA Coast to Coast! Like I said, loving it!
What's one improvement you would suggest?
Well other than seeing a Bagger/Touring V-Twin type icon as a category of riding, I can't wait to see where the REVER guys take it utilizing Geo Fences to conduct POI Challenges and even increasing the social aspect – being able to pin places and things. Can't wait to see the app, onward and upward, crushing it! Throttle Up!
Lastly, we'd like to ask you to tell us a story about an adventure you've had with your motorcycle utilizing the REVER app.
Here's a good story from the blog:
"Riding Americana Throttle Girl Style On Route 66"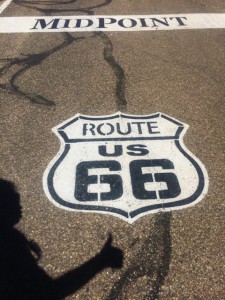 Route 66 is one of America's most iconic and well-traveled routes, in fact, some would say it is pure Americana; the most modern example of the pioneer spirit since the wagon train navigated the prairie lands. This was the story for my grandparents as they loaded my great-grandmother, my mother, her brother and the family dog in their new 'fast and sporty' ready for California 1962 Mercury Comet pulling a trailer. National Lampoon's Griswold family experience underway, (sans Grandma being tied to the roof) they left Michigan headed for the pungent smelling orange grooves and warm sunshine of Southern California. It's hard not to feel nostalgic when traveling this route no matter what story of past you relate to…
Making its way across America, Route 66 intertwines with modern interstates and highways becoming I-40. I'd recommend staying true to your adventure by taking a step back in time following the old Historic Route 66 signs breaking free of the Interstate when possible.
Then again, I avoid Interstate travel whenever possible. For those riders who have an appreciation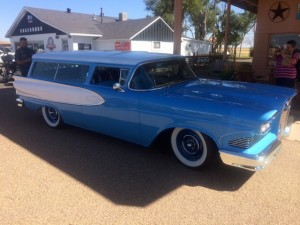 for classic vehicles and off-the-wall stops like the world-renown Cadillac Ranch in Amarillo, TX, it's the only way of doing it. In all fairness I must warn you. If you have a passion for vintage vehicles like you do your motorcycle, you maybe in trouble.
Some of you know my Copper Queen is a custom build Harley tribute to my love of vintage Caddy, so Cadillac Ranch was a no brainer stop for me. What you may not know is I have always wanted a fixer upper vintage pick up to tinker on. Well, I found her along the way, I managed to fall in love at first sound (had an amazing potato, potato rumble about her) with a 1963 Ford Classic Cab Pick Up Truck in historic Bernalillo, New Mexico (a must stop on the route) and I immediately had her shipped home to love on…but that's another story. Again, you've been officially warned, you WILL be teased with a good time along the way!
Following Route 66 is one of the rare times as the Moto Gypsy I am, that I will tell you to have a plan by researching things to do and see along the way that matter to you. There is a ton of info available on-line and cool things to check out both on and off the beaten path. In my experience, while keeping it moving forward with a plan, keep it flexible.
There will be places that jump off the map at you that you'll be interested in stopping, some places you hadn't counted on and some of those places you thought you wanted to stop only to think, "I could have jumped on the interstate through this one." Speaking of a stop that jumped off the map at me I hadn't counted on, I have to give major props to Adrian, Texas…quite the stumbled upon surprise.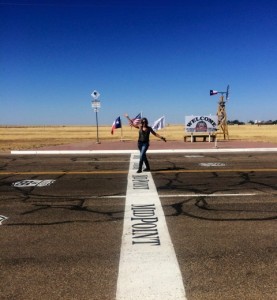 Adrian is located at the half waypoint between Chicago and Los Angeles, literally 1139 miles in the middle of Route 66 and is appropriately known as Midpoint. I stopped with the intension to take a picture at the sign claiming such and ended up taking away one of my many favorite highlights of this trip. Have you ever heard of a lil' Pixar Animation movie called Cars?
Turns out this little jem of a stop was and is the inspiration behind Radiator Springs and its cast of this major blockbuster! I stumbled upon this info by accident as it's not something advertised. I had been on the road for sometime that day and after taking my picture of proof that I'd been there, I decided to go into the retro café there to grab a quick bite and something to drink. A glass bottle of cola and a sandwich later, I decided to opt out of what I later come to find out is their famous pie (honestly doing so in favor of fitting in my jeans a few miles down the road) and get up, full and ready to rally a few more hours down the road before calling it a day.
Having a thing for old renovated gas stations, my eye was caught and I decided I had to pop in next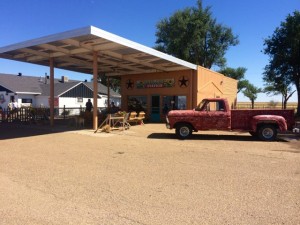 door to check out the 'Sunflower Station,' a renovated boutique shop before saddling up. Greeted warmly at the front door by a woman who seemed bigger than life, the woman who made this place a highlight for me, was Fran aka 'Flo' the inspiration and personality in the movie Cars! It's no secret by now, I love meeting people on the road and hearing their stories, it's a large part of my love affair with riding America and this case was no different. Her infectious personality captivated me with stories of travelers, the people coming in that she greeted with care and the stories of change in the area that had my full attention.
Then, with all the memorabilia of 'Cars' around the shop, it had to be asked, "Why?" Then she hit me with it, more stories, red carpet events, filming and how others in this little 'blink and you'll miss it town' are all famous characters now. The best part is, you'd never know it. Humble as the pie is good (so I hear), once you see the town, meet the café workers and Fran, you'll see parts of the movie in a new light. It made me wonder if the writer traveled Route 66 the same way I was and fell in love with Fran the way I did.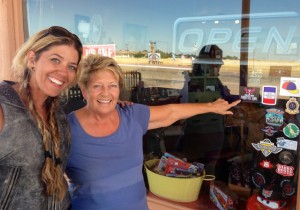 Hours later, after meeting numerous visitors, hearing their stories, checking out a few amazing classic cars cruising by, tagging a Throttle Girl sticker on the front window of the Sunflower Station and having a postcard of Flo signed for my little niece, I was off and rolling with a big smile on my face. Another great story in my adventure logbook and new friends along the way was a double bonus. I look forward to seeing Fran again on my next pass thru, in the meantime, if you're traveling by, please make sure to stop and tell her Throttle Girl sent you. Oh, and don't forget to have a piece of that pie!
Today, Route 66 consists mostly of small towns that clearly paint the picture of the way it once was. These are only a couple stories of highlights I have had along the way. While true story, riding this route doesn't have the grandeur like riding thru Rocky Mountain National Park or Glacier National Park nor the twisty roads we love of the Black Hills or the Sierra Nevada's, it is a must do for any motorcyclist who appreciates a true taste of American history and culture. I recommend this route to anyone looking to write another chapter in their own adventure in life log book, go on now friends, go get your own kicks on Route 66! Throttle Up!!!